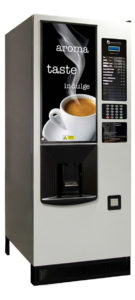 It's no secret that most of our offices depend on a daily cup of coffee (or two!) to survive, and there's nothing like a hot cup of joe sitting on the corner of our desk to push us through a productive day. But standing in long lines every morning at Starbucks or slipping away from the office mid-morning for a latte run wastes valuable company time.
Prevent late arrivals and too-long coffee breaks with our Office Coffee Supply! At Trend Vending, we offer the perfect solution to your office's coffee service needs.
Office Coffee Vending Machine Benefits
Give your employees what they want with your office's own coffee supply.
Office coffee is the most convenient coffee vending solution offered. With coffee available right in the office, there is no need for employees to dash out on lengthy trips to the local coffee shop or battle long lines in the morning, which greatly reduces wasted company time.
With a variety of flavor and condiment offerings available, there is something to satisfy everyone's needs and preferences. Sleepy mornings at the office end here!
Coffee Vending Machine or Commercial Grade Coffee Pod System?
Trend Vending offers two types of coffee machines that will suit your offices' individual needs:
1. Traditional Office Coffee Vending Machine Services
Trend Vending offers office coffee supplies and services for traditional coffee vending machines. Traditional machines dispense coffee in 8 or 12 ounce pours, adding cream or sugar to the cup if selected. These machines offer a variety of tasty flavors including French Vanilla, Hazelnut, Butterfinger, and Irish Cream.
Some vending machines have the ability for the employee to choose the strength of the brew, as well. Have a few non-coffee drinkers on your team? They're sure to be satisfied with the tea and hot chocolate machine options.
2. Commercial Grade, Single Serve Coffee Pod System for Your Micro Market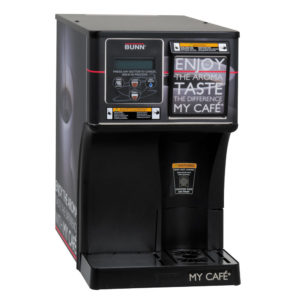 We provide coffee pod machines and services for our clients with the Company Kitchen micro-market vending system.
Please Note: You do not need a micro market in order to have a coffee brew pod system. There are some exceptions, please contact us for more information. 
How Does a Coffee Brew Pod System Work?
After employees purchase individual coffee pods in their desired flavor through the micro market, they are able to prepare a fresh brewed cup on the provided machine. There's something for everyone with our variety of coffee pod flavors including French Vanilla, Sumatra, Decaf, Donut Shop, French Roast, and more.
A condiment station located within the micro-market is stocked with all the fixings, including sugar, plain and flavored creamers, stirrers, lids, and cups.
We are not a Keurig K-Cup provider or distributor. However, we do provide individual coffee brew pod systems in conjunction with our Company Kitchen micro market vending option.
This is not a typical drip coffee machine with grounds and a filter – it is a commercial grade, single serve coffeemaker that uses a pod instead of a K-cup.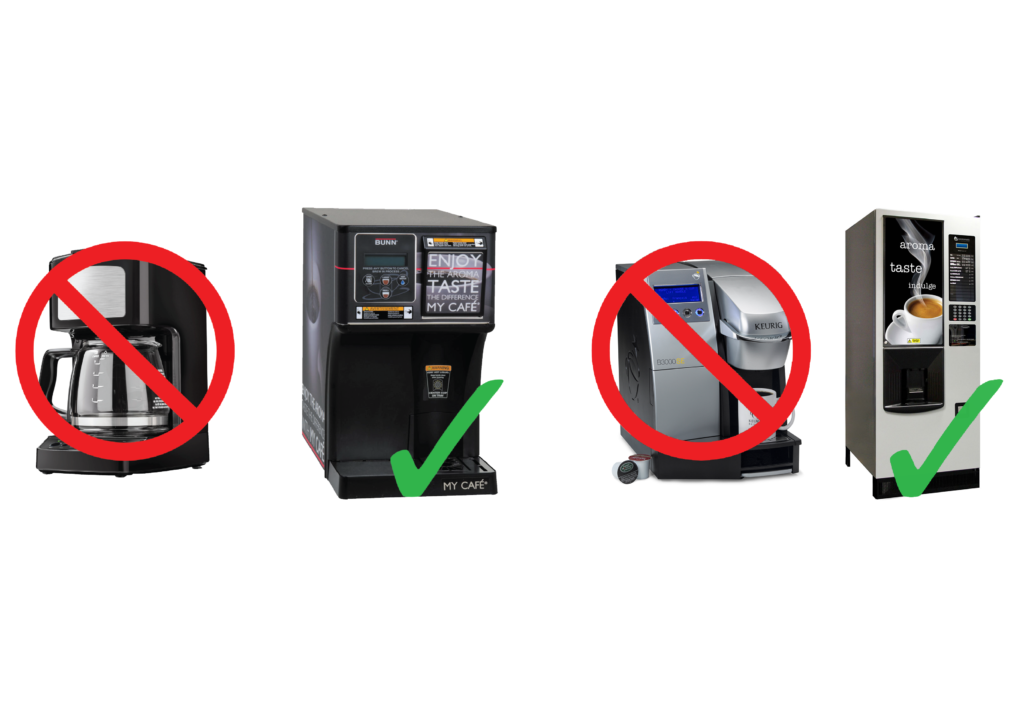 Is There a Specific Product / Brand of Coffee You Want?
We can't list EVERY brand or flavor of coffee we supply on our website, but chances are – we have it! Call 717.566.3616 or Contact us for more details.